The JOVE Bulletin


The newsletter of NASA's Radio JOVE Project
"Planetary Radio Astronomy for Schools"
MAY 2003 ISSUE
- Leonard N. Garcia (QSS Group, Inc.), Editor
Visit our Web Site: http://radiojove.gsfc.nasa.gov
Email Radio JOVE at: rj_project@radiojove.gsfc.nasa.gov
---
CONTENTS
---
What should you do if you finish building your radio Jove kit and it doesn't work? If you find yourself in this bind, here are a few tips on how to track down the problem.
The first step is to follow the troubleshooting procedures in the receiver manual. Check to make sure that all electrolytic capacitors, diodes, transistors, and integrated circuits are oriented properly. If you have a voltmeter, check to be sure that the DC voltages match reasonably well with the values shown in Figure 19 of the manual. Incorrect voltages should help you to isolate the section of the radio where the problem lies.
Review the soldering video on the Jove CD. Using a bright light and a magnifying glass, check every single solder joint. Re-solder any joints that look suspicious or are not smooth and shiny. The solder should flow smoothly making good contact with both the component lead and the solder pad. Look for solder bridges - particularly between the IC solder pads.
You can carefully touch each of the ICs with your finger to see if it is hot. None of the ICs should be hot. With the audio gain control turned up you should hear a loud hum or even a local radio station when you touch IC2. If you don't, then the problem lies between IC2 and the audio output of the radio.
If you have tried these troubleshooting steps and the radio still doesn't work, then you may contact Richard Flagg, the receiver designer, at rf@hawaii.rr.com. He may have additional suggestions, and has offered to fix any completed Jove receiver for a flat fee of $25 plus shipping.
Of course, you may contact any Radio Jove Team member for advice and help with any Radio Jove problems or questions.
On May 16, the Radio JOVE core team was recognized by NASA Goddard Space Flight Center for their work in educational outreach. During the ceremony, officiated by NASA/GSFC Director Al Diaz and Deputy Director Bill Townsend, Jim Thieman received the award on behalf of the many volunteers who have worked on developing the Radio JOVE project over the years. The award was given to the team "in recognition of their outstanding contribution providing hundreds of students across the country with a hands-on activity experiment demonstrating the scientific method."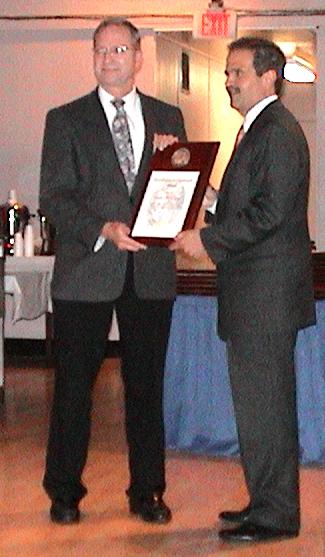 Jim Thieman accepting the Excellence in Outreach Group Achievement Award from Center Director Al Diaz.
The Radio JOVE archive now has almost 800 observations available for downloading. Over 600 observations of the Sun and almost 200 observations of Jupiter are now online and more are being added almost daily. Various types of data are associated with these records. Observers have sent us almost 700 image files of stripcharts and spectrograms, over 100 sound files and nearly 400 Radio SkyPipe files. These observers come from all over the US, and from Australia, France, Germany and the UK.
We would like to thank all of the contributing Radio JOVE observers for making the archive so successful. You can find the archive on the Web at http://jovearchive.gsfc.nasa.gov. Through the JOVE archive website you can view and download data via a convenient calendar interface. If you are interested in uploading your own observations, send us email at rj_project@radiojove.gsfc.nasa.gov for more information.
Earlier this year, long-time Radio JOVE team member Albie Davison accepted a new work assignment and left his position supporting Radio JOVE. We'd like to express our gratitude to him for his many contributions since the early stages of this project.
Radio JOVE got started in earnest in 1998. In 1999, the project took on its first two Summer student interns, high school student Autumn Thayer, and undergraduate astronomy student Albert Davison. During that first Summer, Albie helped assemble and test one of the first production RJ 1.1 receiver and antenna kits. He also was part of the project's team that participated in the 1999 Society of Amateur Radio Astronomers (SARA) Conference at Green Bank, West Virginia.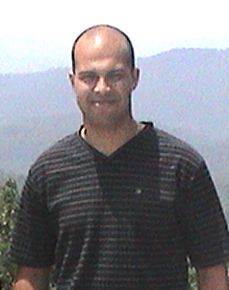 Departing Radio JOVE Team member Albie Davison
He later joined the project as a part time employee and began his stint as a part of the core team. After graduation, he continued his work on the project with more time devoted to it. Along the way, Albie continued to learn new technical skills and helped shape Radio JOVE in many key areas.
To just touch on a few of Davison's contributions, he has designed and produced the master discs for the kit's CD-R since the first version. He created many of the early how-to write ups for the RJ Web site. He helped prepare the project's collection of educational materials, including the lesson plans and ready them for the Web site and the CD-R's.
Radio JOVE Project Leader, Dr. James Thieman, recalls: "I think Albie has gone to SARA every year since that first Summer and has given at least a part of the presentation each time. I'm sure he remembers the first summer when Dick Flagg and Jim Sky were there and we successfully used the Jansky telescope to receive Jupiter on a cold early morning, just around sunrise. Likewise I know he will never forget traveling to the SARA conference in Green Bank, WV with other Radio JOVE summer students and arriving late in the evening after being delayed on the journey. He and the others found that the motel they had planned to stay at was closed for the night and they ended up sleeping in the car. They still managed to put on a good show for the next day despite a fitful night's sleep in a small car."
"Over the years Albie has become more and more knowledgeable about the whole project to the point that he now gives workshops about the project on his own. He did this recently for a group of teachers in Alaska. We will greatly miss Albie and hope he will be able to continue to help out occasionally when he has some extra time. He is not going too far away since he has acquired a full time position in a different building at Goddard Space Flight Center. We wish him all the best."
In many ways, Albie Davison represents a real success story for our educational project. He joined us as a student and leaves us as a professional with a range of skills honed while working on Radio JOVE. For its part, the project is saying goodbye to a colleague and a friend. Good luck, Albie!
I recently attended the Joint Assembly of the American Geophysical Union, European Geophysical Society, and European Union of Geophysics (AGU/EGS/EUG) in Nice, France. Thanks to the generous hospitality of George Lauffer (a Radio JOVE observer and an important advocate of the project in Europe) and his wife Sabine, I was able to visit the Lauffers as well as two Radio JOVE school groups in the Pforzheim area of Germany during my trip.
George kindly picked me up at the Frankfurt airport. On the way to his house, we visited the Franziskanischer Gymnasium in Großkrotzenburg, Germany. This is a private high school that has had an active Radio JOVE observing team for several years. Brother Bernardin Marker is the school's science teacher. He has a number of students working with him to make Radio JOVE observations. They have a very impressive Radio JOVE setup. The group also showed me the other antennas and setups that they use for additional projects. I gave a short lecture on the science behind Radio JOVE. It was attended by the students and some former students who had graduated and are now in college. I was impressed with their enthusiasm, knowledge, and English skills. I hope some of these students will consider a career in the space sciences.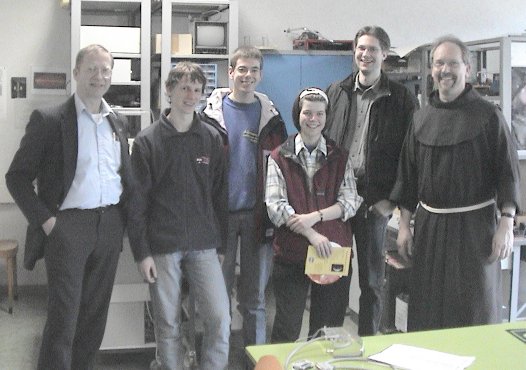 Jim Thieman with Brother Marker and his students at their Gymnasium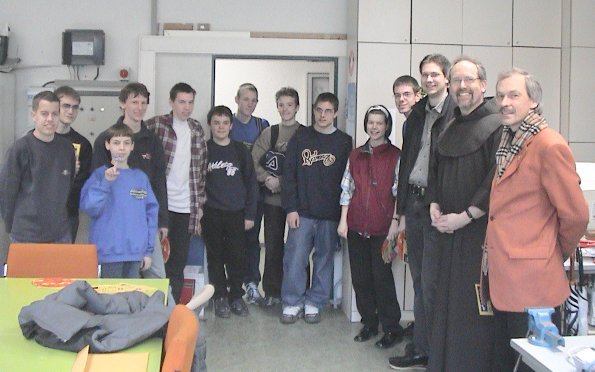 Current and former students, Br. Marker, and George Lauffer
As our visit ended, I gave Brother Bernadin some material for future use in his science classes, then George and I continued on to George's house. Lauffer has his own impressive set of antennas that he uses for Radio JOVE and for meteor observing. While at his home, we did some remote observations of a possible Jupiter storm via Hawaii.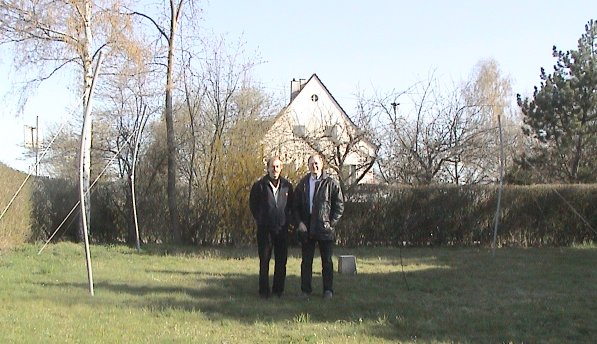 George Lauffer and Jim Thieman pose near George's RJ array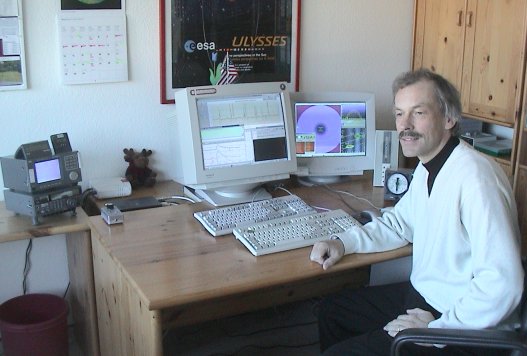 George, remotely observing Jupiter through WCCRO via the Internet
Next we visited the nearby Johannes Kepler High School. This is a high school that specializes in science and technical subjects. They have an optical observatory at the school and they expressed interest in setting up a radio observatory, as well. Later that same day, I gave a lecture about Radio JOVE to a teacher, her students, and several members of the local Johannes Kepler society, including the society's president, Prof. Dr. Fischer. After the lecture, we toured the observatory which is used by both the school and the Kepler society. The next day, Dr. Fischer graciously gave me a personal tour of the birth house of Johannes Kepler, which is now a museum.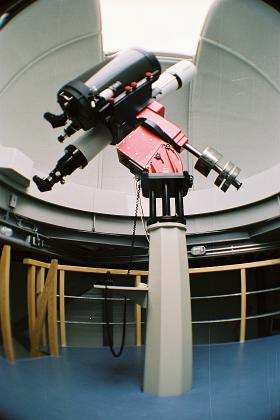 Inside the observatory dome at Johannes Kepler High School
George, Sabine, and their dalmatian dog "Cici" kindly took me to the meeting in Nice, France in their car - a full day's drive. There we met with Ruggero Ulivastro, a Radio JOVE observer from Nice. We all joined Chuck Higgins, another Radio JOVE management member at the meeting, in giving a poster paper about Radio JOVE. We also benefited from the radio astronomy research talks presented at the meeting. Ruggero's wife joined us for a fine dinner in Nice and a discussion of Radio JOVE in Europe. We parted company knowing we had some wonderful advocates for the project in Europe and we look forward to working with them in the future.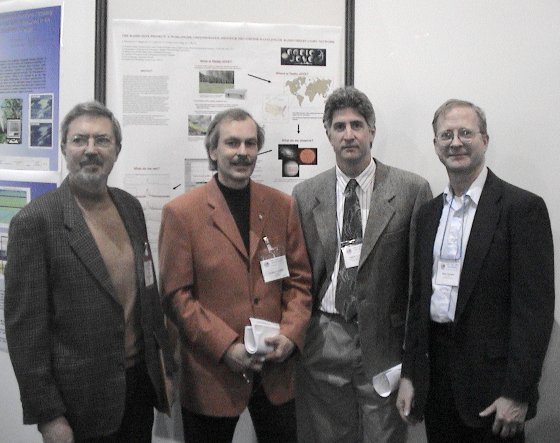 R. Ulivastro, G. Lauffer, C. Higgins, and J. Thieman by their Radio JOVE poster paper in Nice
The major improvement at WCCRO during this last year was the introduction of a radio spectrograph. This is a swept frequency receiver operating between 18 and 28 MHz. It steps thru 200 channels every tenth of a second producing an image of signal amplitude as a function of both frequency and time. This image is called a spectrogram.
In the Web-based version of this issue, I have attached a spectrogram from this instrument showing a strong solar burst. Beta testing software is currently in use allowing remote users to log into the spectrograph. The observatory is also being upgraded to allow remote control over the Internet.
If you already have Radio-SkyPipe on your computer you can use the short download of the spectrograph program as some of the files needed for the spectrograph viewer are already included in Radio-SkyPipe. http://jupiter.wcc.hawaii.edu/specviewershort.exe If you do not have SkyPipe loaded then you should download the full version of the spectrograph software at: http://jupiter.wcc.hawaii.edu/specviewerfull.exe A help file is available at: http://jupiter.wcc.hawaii.edu/specclienthelp.html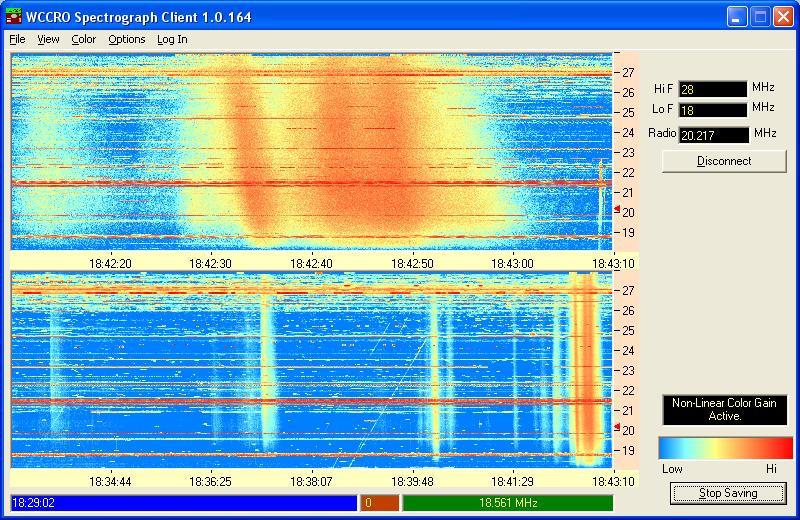 A WCCRO Spectrogram of a solar burst on March 28 , 2003
WCCRO is currently streaming SkyPipe data, real time audio, and spectrograms on a 24x7 schedule. See our website at http://jupiter.wcc.hawaii.edu/.
Last year John "Dusty" Samouce served as Commander of Crew 8 at the Mars Desert Research Station in Utah (see http://www.marssociety.org). For two weeks the crew explored all facets of human exploration while in a simulated Mars environment. While there he also set up a standard JOVE antenna array.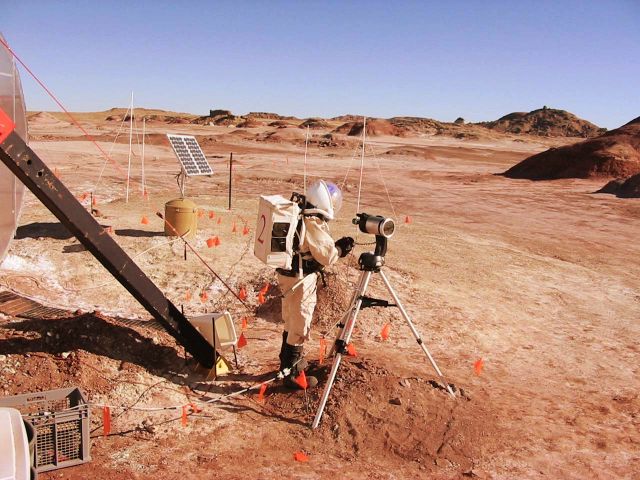 Here is Dusty Samouce dressed for a day on Mars. He's actually at the Mars Desert Research Station in Utah. The Radio JOVE antennas are visible in the background behind the solar cells. (Ed. note: we've added more red to this photo just for fun.)
Back on "Earth", Dusty has quite an observatory at his home in Montana. He modified the standard JOVE antenna system somewhat, lifting the dipoles 15 feet (4.6 m) off the ground. He combined the signals from these dipoles to form a 4-element array (one pair of North-South aligned and one pair of East-West aligned antennas).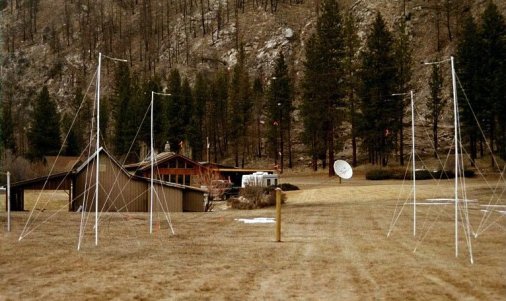 Dusty Samouce's square 4-element (N-S-E-W) JOVE array at his home in Montana. The dipoles have been lifted to 15 feet above the ground. On the central post he mounted a power combiner (Radio Shack # 15-123).

He also built a quad Moxon rectangular antenna array. Inside his observatory he has two JOVE receivers and dedicated computers that are connected to the JOVE square array and Moxon array.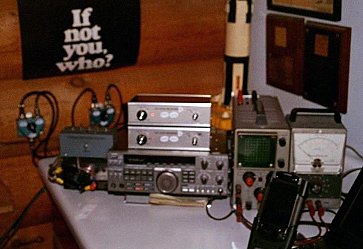 Inside Dusty's observatory he has two JOVE receivers that are connected to the JOVE square and Moxon square antennas through PL-259 switches (on wall under "If not you, who?"). Switches select E-W or N-S antenna set. A RF-2010 calibrator sits on top of DC power supply (left of receivers) that powers it and both JOVE receivers. Also shown is a R-5000 Kenwood receiver to be used with future tracking high gain antenna.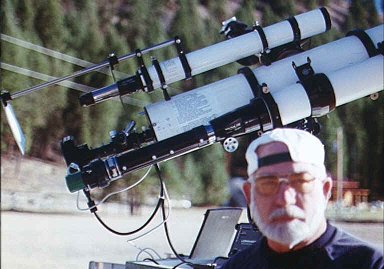 Here is a picture of Dusty during one of his solar observations
Thank you Dusty for the tour of your observatory and for taking Radio JOVE along with you to "Mars"!
Radio-SkyPipe: 1.2.10
Radio Jupiter Pro - JOVE Edition: 1.1.16
This software may be downloaded from the Radio JOVE software page http://radiojove.gsfc.nasa.gov/dal/software.htm.
Teaches planetary and solar radio astronomy, space physics, and the scientific method
Target audience - Teachers and students of high school / college science courses
Provides teachers and students with a hands-on radio astronomy experience
Gain experience in electronics construction and testing
Interact with other Radio JOVE schools to exchange data, ideas, and experiences
Radio JOVE kits available for $125 plus shipping, additional equipment is required, including antenna supports, a tape recorder, and a PC with a sound card
The JOVE Bulletin is published several times a year. It is a free service of the Radio JOVE Project. We hope you will find it of value.
Back issues are available on the Radio JOVE Project Web site, http://radiojove.gsfc.nasa.gov/
For assistance or information send inquiries to:

Radio JOVE Project

Code 633

NASA Goddard Space Flight Center

Greenbelt, Maryland 20771 USA

or

Email: rj_project@radiojove.gsfc.nasa.gov

FAX: 1-301-286-1771

---
---