The JOVE Bulletin


The newsletter of NASA's Radio JOVE Project
"Planetary Radio Astronomy for Schools"
FEBRUARY 2005 ISSUE
- Leonard N. Garcia (QSS Group, Inc.), Editor
Visit our Web Site: http://radiojove.gsfc.nasa.gov
Email Radio JOVE at: rj_project@radiojove.gsfc.nasa.gov

The opinions expressed in this newsletter are those of the authors and not necessarily those of Radio JOVE, or NASA.
---
CONTENTS
---
The Radio JOVE project is releasing this special issue of the Radio JOVE Bulletin to make several important announcements that need to be brought to the attention of all of our observers, experienced and new. Let me summarize the contents.
First, it may be necessary for most northern hemisphere observers to modify their antennas in order to observe Jupiter as it moves south in the sky over the next few years. (The original version of the antenna will continue to be sufficient for solar observations.) Second, we have had to increase the price of the basic kit to $155 plus shipping due to inflation and so that the parts necessary for a modified version of the original JOVE antenna could be included in the kit to allow for observing Jupiter as it moves farther south. The original RJ antennas can be modified for this purpose as well according to instructions in a free manual download from the website. Third, there is a new educational CD being included in the kit. This CD can also be purchased separately. Finally, for those who are reluctant to build the radio receiver from the kit, it is now possible to purchase a fully assembled receiver.
We hope that you will find this special February issue useful and timely. As always, your feedback is welcome.
Jupiter is heading south. Not just for the winter - but for the next several years. This means that for northern hemisphere observers Jupiter will be appearing lower in southern skies. The original Jove antenna (RJ1.1) was 10 ft high and used equal lengths of transmission line from each antenna to the central power combiner. It had a 60 degree wide antenna beam that looked straight up. Last season several far northern latitude stations (mostly in Europe) began adding a 90 degree phasing line (a quarter wavelength long piece of coax) between the south antenna and the power combiner. This tilted the antenna beam down about 30 degrees from the zenith toward the southern horizon.
As Jupiter continues its southward motion, almost all northern hemisphere Jove observers will need to modify their antenna to swing the beam south. Depending on your latitude, the modification will take the form of simply adding a phasing cable, or for more northern stations, the addition of a phasing cable and also raising the height of the antenna (up to 20 feet in some cases).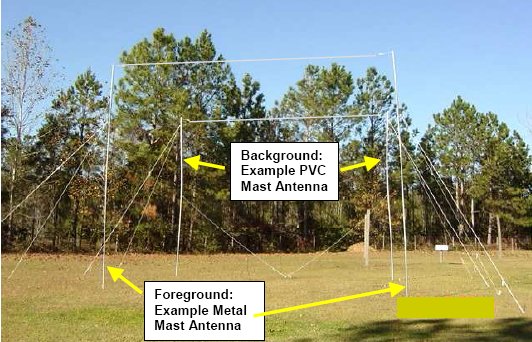 Photo of an RJ 1.2 Antenna Array (from the revised antenna manual)
New purchasers of the Jove kit will receive the RJ1.2 antenna which includes extra coaxial cable for the phasing line and a new antenna manual. The manual, which is now posted on the Radio Jove website http://radiojove.gsfc.nasa.gov/elab/ant_manual.pdf, will show you how to customize the Jove antenna for your latitude and Jupiter's current declination. A separate, retrofit antenna kit including coaxial cable, wire, insulators, connectors and a power combiner is available for ordering at the Radio Jove website. We are preparing instructions for how to retrofit an existing Jove antenna using coaxial cable from Lowes or Home Depot. (We note that Radio Shack has recently discontinued sales of bulk coaxial cable).
Many stations may be able to start observations this season with their original Jove antenna. The new design changes will become more important as the season progresses and Jupiter continues its southern migration.
The price of the Radio Jove radio telescope kit has been raised from $135 to $155. This price increase was necessary in order to cover the steadily rising cost of receiver components, as well as to include the cost of additional coaxial cable supplied for the new RJ1.2 antenna. A new educational CD ("Visual Primer to Radio JOVE") is being included with all new Radio JOVE kits, in addition to the reference CD. See the next article for more information on this exciting new CD. Check out the order form http://radiojove.gsfc.nasa.gov/office/order_form.htm on the Radio Jove website for details.
An important new educational CD is now available for educators, students, and other Jove observers. The Visual Primer to Radio Jove was created for NASA by Dr. Joseph Ciotti, director of the University of Hawaii Windward Community College's Center for Aerospace Education. This multimedia presentation includes exciting presentations on the Basics of Radio Astronomy, Jupiter as a Radio Source, the Radio Sun, and the Cosmic Background.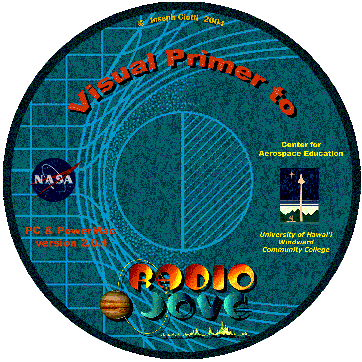 Disc art for the new "Visual Primer to Radio JOVE" Educational CD-R
A Treasure Trove of curriculum material is also included. The CD also includes both Power Point and Acrobat viewers for Mac and PC platforms running modern operating systems (Mac 9.2 and later and Windows 98 and later). The CD may be ordered on the Radio Jove website for $10.00 plus shipping.
The Radio Jove receiver is now available in both kit form and as an assembled and tested unit. The assembled kit can be purchased for $245 plus shipping. Check out the order form on the Radio Jove website for details.
While we still encourage students and others to try their hand at building the receiver kit we now offer a professionally built and tested receiver for those folks who prefer not to build the kit, but want to participate by making their own observations. If you do build the kit and have difficulties getting it to work properly the Jove Team is available to provide e-mail support. The designer of the Jove receiver, Richard Flagg (rf @ hawaii.rr.com) will fix any receiver (put together with reasonable care) for a flat fee of $25 plus shipping.
Radio-SkyPipe: 1.2.16
Radio Jupiter Pro - JOVE Edition: 1.1.16
Radio Spectrograph: 1.2.13
Flux Density: 1.0.0
This software may be downloaded from the Radio JOVE software page http://radiojove.gsfc.nasa.gov/dal/software.htm.
Note: Some newer computers have shown timing problems when using Radio-SkyPipe software. This problem has been fixed in the latest version of Radio-SkyPipe. You can always find the latest version of Radio-SkyPipe by going to:
http://radiosky.com/skypipeishere.html
Teaches planetary and solar radio astronomy, space physics, and the scientific method
Target audience - Teachers and students of high school / college science courses
Provides teachers and students with a hands-on radio astronomy experience
Gain experience in electronics construction and testing
Interact with other Radio JOVE schools to exchange data, ideas, and experiences
Radio JOVE kits available for $155 plus shipping, additional equipment is required, including antenna supports and a PC with a sound card
The JOVE Bulletin is published twice a year. It is a free service of the Radio JOVE Project. We hope you will find it of value. Back issues are available on the Radio JOVE Project website, http://radiojove.gsfc.nasa.gov/
For assistance or information send inquiries to:

Radio JOVE Project

Code 633

NASA Goddard Space Flight Center

Greenbelt, Maryland 20771 USA

or

Email: rj_project@radiojove.gsfc.nasa.gov

FAX: 1-301-286-1771

---
---